Zoom Help
TIOH @Home uses Zoom software to host our live classes.
Join a Class
Click the Join via Zoom button from our catalog of classes to launch the Zoom client.
When entering a Zoom meeting for the first time from a computer you will need to download a small file to install Zoom.
This process is easy to complete on all commonly used browsers. The examples below are shown using Mozilla Firefox and Google Chrome.
Mozilla Firefox
Click 'Save File'  and follow the instruction in the orange box.
Google Chrome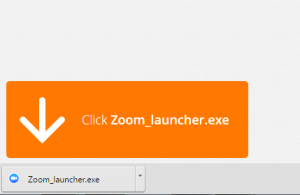 Just before entering the meeting you will be prompted to enter a display name. This name is simply to identify you in the meeting
Join Audio via Computer
You will then be prompted how you wish to join your audio. If you wish to join audio via the telephone, follow the instructions further down, otherwise simply select Join Computer by Audio (TIP: by ticking the "Automatically join audio by computer…" option box first, will mean you won't get prompted again in the future)
Join via Telephone
If you are unable to join from Zoom on a computer or mobile device, then you can join on the telephone instead.
If you would like to attend a Zoom meeting via telephone within USA please call your local number from the list on the Zoom app. Then enter the Meeting ID when prompted.
Installing Zoom
Download and install the Zoom client for PC/Mac/iOS/Android:
Zoom for PC/Mac: https://zoom.us/download
Zoom for iOS: https://itunes.apple.com/us/app/id546505307
Zoom for Android: https://play.google.com/store/apps/details?id=us.zoom.videomeetings
For more help with Zoom please check Zoom's Support Page: https://support.zoom.us/